Good time had by all last night at the Somerset House zombie spectacular. It is one hell of a place to watch a movie - the vast courtyard of a glorious 18th century building which has housed various institutions from the Royal Academy of Arts to the Inland Revenue over the years. The regal surroundings were accompanied by stratospheric beer prices, as I had expected, sneaking in some vodka and orange to ease the aches and pains that four hours sitting on hard granite would surely invoke.
I spotted those bearded twin-zombies from SOTD wandering around early on - sadly, my photographic skills leave much to be desired so it's a bit blurry. DJ Osymyso provided the music, which became more and more zombie related as we neared the start of the first movie. At about 9pm Simon Pegg, Edgar Wright, Kate Ashfield and Peter Serafinowicz came out to introduce SOTD urging the crowd to cheer each on-screen appearance of the aforementioned bearded twins (tonight was their birthday) and leading a Happy Birthday singalong.
I have seen this movie 5 or 6 times now, enjoying every one - Nick Frost's comedy genius becoming more and more apparent. The crowd loved it though a lot of them seemed to have disappeared by the time Pegg & Wright emerged again to introduce the "English premiere" (Edinburgh having shown it the night before) of Land Of The Dead, complete with a brief history of Romero's movies and urging us to cheer on the various awesome zombie-killings we were about to witness. Oh, and to watch out for their brief cameos.
LOTD is very short. Good news for my rapidly forming piles but bad news for the movie - while it had everything I expected, some decent shocks and some great deaths, there were a few too many plot lines going on for my liking which drew focus from the zombie onslaught and their leader's awakening. Romero is clearly still a master of the genre, but having seen so many cheap rip-offs over the years, this new movie doesn't have the same impact that his other work did the first time round.
I missed most of the political undertones (terrorism, right) - need to watch it again. But the message seems clear. Holing yourself up in a fortress solves nothing - the walls which protect at first, imprison before long.
Finished at 1am - man, driving through London late at night is awesome - empty roads. Home to find all but three of my photos are blurred enough to have been taken by a zombie. Next time I go to one of these I will be prepared - picnic hamper and ass-padding. Again, fantastic venue. Good work FilmFour!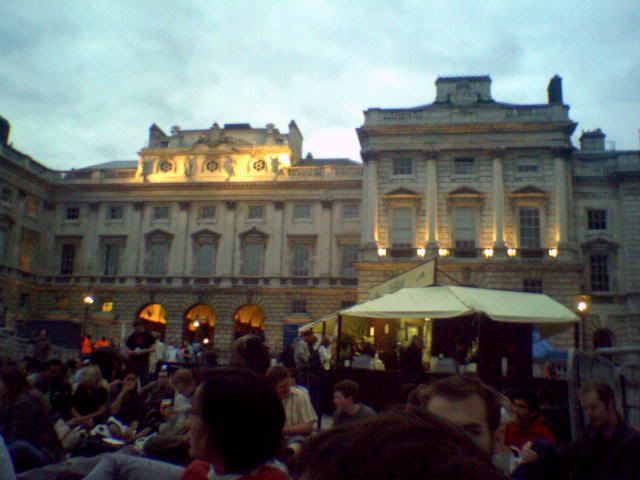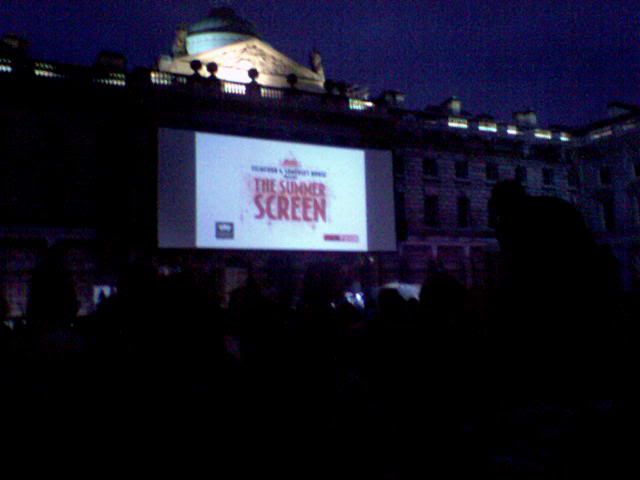 If you squint you can make out two identically hirsuite, dwarfish forms.