Hello everyone, the main reason that I was excited to begin playing with the werewolf game here is because I recently finished watching a very cool Japanese Anime entitled "Death Note."
It has not been released outside of Japan yet, but wikipedia tells us that on November 20 in the U.S., by Viz Media (don't see their website, since it removes some of the surprise:
http://deathnote.viz.com/
). You can read a bit more about the series on the wikipedia article, but I don't recommend it because it's best to remain surprised when watching this series (here is the wikipedia article that you should avoid:
http://en.wikipedia.org/wiki/Death_Note
).
Because I am telling you to stay away from all the media informations, I'll try to give you some insight into this series.
The story begins in the world of the Death Gods, where one bored Death God, Ryuuk, decides to spice up his life by dropping a Death Note in the human world. The Death Note is a notebook wherein people whose names are inscribed in the notebook are killed soon thereafter. Ryuuk's notebook is picked up by Yagami "Light" Raito, who quickly begins testing what the notebook claims to do:
Light begins to judge the criminals of the world very quickly, and this draws the attention of the international police force, who recruit the world's greatest detective: a mysterious person who goes by the codename "L."
The series, which lasts 37 22-minute episodes, becomes a cat and mouse game between L and Light, where each is apparently some kind of genius trying to out maneuver the other: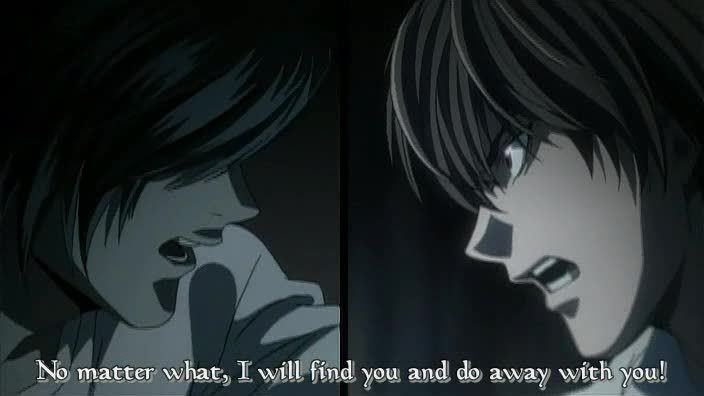 If I have to compare it to any films, I think conceptually Heat and Infernal Affairs/The Departed will give you the right idea, except Death Note contains fantasy elements where those films were grounded in "reality."
I don't always enjoy Japanese animated films because they often have a simple and direct way of addressing some interesting philosophical issues, but Death Note is certainly one of Animes that breaks out of such trappings. Japanese animation is often ambitious to say the least, and with Death Note I was very pleased to see that the execution (no pun intended) matched the ambition of the creators.
Visually it's a beautiful animated series, but there's not a lot of action for those who expect to see giant robots fighting giant lizards. However, the creators manage to keep a suspenseful atmosphere throughout the series, and I think I only found one episode to be boring, but that's because it was setting up the events of the end. The visuals are very nice as I already said, having a painterly quality to them, but the animation itself is very simple, even rigid in some parts, but this does not really detract from the experience of the show since it relies so heavily on twists and turns based on dialogue and characters interactions. I don't know how many scenes there were which were just made up of two characters walking along talking for several minutes, but the show is very tightly constructed so I only notice this now in retrospect.
I don't know how any of you could get a hold of this series without importing the Japanese DVDs, so probably you will have to wait until November 20, but I think it will be worth the wait, and try to avoid spoiling any of the twists/surprises!
Otherwise I am curious if anyone else has heard of this show or has watched it already?