Look, up in the sky!
It's a bird!
It's a plane!
No, silly! It's the Superman Returns Review Thread!!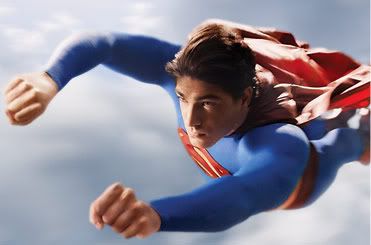 (Lame as that was, it gets me in the proper mood.)
Arguably the biggest movie of the summer, Superman Returns to theaters--see what I did there?--on June 28th.
Some early reviews have begun to creep up from the select screenings Warners has held. Below are the links to posts in the News thread with reviews:
You Know My Name links to the first two
HERE
.
Teh Balm has one
HERE
.
Kirk has Latino Review and Dark Horizons
HERE
.
The most exciting quote, which has already been discussed a bit, comes from one of You Know's:
Stephen Schaefer wrote:Even better, Singer has transformed Superman, the alien from another planet with his extraordinary powers, into a majestic, awe-inspiring figure, not a kiddie comic book guy in tights. Like Apollo come to earth, like Atlas holding the world in the great Rockefeller Center sculpture, Brandon Routh's Superman has a gravity that enobles this entire two-and-a-half hour picture.
If that is even half-true, we're in for quite a treat.
A brief note on decorum: Let's try to keep this debate somewhat civilized. Argue the points, not the person.
AND PLEASE REMEMBER SPOILER TAGS AND TINY TEXT!!

DON'T RUIN THIS ONE FOR FOLKS WHO WANT TO BE UNSPOILED!!