2014: Final Fight!
This is probably my final annual reflection. I think we all know that since the dawn of cinema, every film, every discussion about movies, every criticism, every rejected movie idea, has been in service of refining this artform. Building it up, tearing it back down again, it's all been in the pursuit of perfection. We've been sharpening cinema into a lean sharp jaguar lazer so that one day, it could deliver the one film that would justify the entire artform. And now, finally, after over a century of men labouring and dying to get cinema to a point many of them would never live to see, we're here. ANT-MAN is upon us. We've done it! And so, places like The Zone no longer serve a purpose. There's no need for churches when we all live in heaven. We are the generation who will remember movies in the plural and the idea that different people had different tastes in these multiple movies. After ANT-MAN, there will only be ANT-MAN.
Best film of 2014
: THE WIND RISES
Another supposed farewell tour from Miyazaki yields what I think is his first work outside the fantasy genre and an absolutely brilliant and complex historical drama that looks at the consequences of progress.
The Golden Oleg for Action Cinema 2014:
ALL YOU NEED IS KILL: EDGE OF TOMORROW: LIVE DIE REPEAT: THE ADAPTATION OF THE NOVELIZATION: TWO MONKEYS ONE BANANA
This is the standard every summer action flick should aspire to. Sharp and funny dialogue, and with solid pacing it better win the Oscar for editing.
This film also wins the awards for
Most Titles
,
Best Editing
, and
Best Supporting Badass: Emily Blunt
in peak physical condition.
Best performance from a male actor in a lead role 2014
: Tom Hardy in THE DROP
A small-scale crime movie that really won't shatter anybody's earth. But Hardy's performance is so nuanced and measured it hits its mark perfectly. And I really hope Hardy plays Svejk next time they do a big screen adaption of 'The Good Solider Svejk'.
I also want to give honourable mentions to:
J.K. Simmons and Miles Teller doing solid co-lead work in WHIPLASH
Jake Gyllenhaal in NIGHTCRAWLER
Best performance from a female actress in a lead role:
Mia Wasikowska in TRACKS
A good true story movie, Wasikowska gets a character who is hard to understand and hard to like, but makes her quite watchable.
Best performance in a camero role 2014
: Uma Thurman for NYMPHOMANIAC
I generally felt conflicted about this movie. It had a number of (intentionally) hilarious scenes, but the overall film just wasn't cohesive. Despite spending Peter Jackson lengths hearing the protagonist's life story, she never really felt like a character as much as just a mouthpiece for Lars Von Trier's out-of-touch and vague cynicism.
That being said, a number of players do excellent work and the film probably has the best ensemble acting strength of any picture this year. I will single out Uma Thurman because her scene was just so fucking funny and she sold it perfectly. I'll give Shia The Beef credit too, he's pretty funny in this, especially when he's talking about being ordained by God to be temporary manager of a shitty little printing press.
Worst movie 2014:
SABOTAGE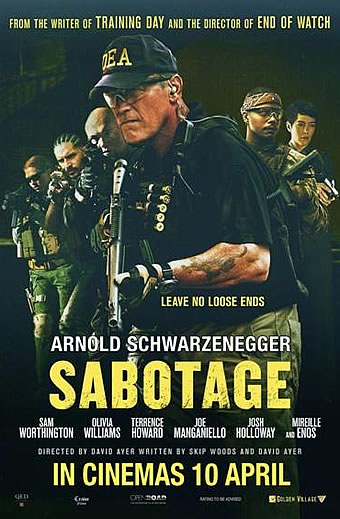 I think during his recent return to acting, Schwarzenegger has picked roles that suit this stage in his life; and I've been glad to see him taking on original properties and the choice of filmmakers he's chosen to work with have been solid choices. David Ayer really drops the ball on this one. Ayer was well within his comfort zone of telling stories about corrupt cops, but the story here is just a complete mess and film has no idea whether it has a moral centre or not.
Best Old Film seen in 2014:
PATHS OF GLORY
This Stanley Kubrick guy is a good filmmaker, I think. I put off watching this one for a long time because I was under the false impression it would be another battlefield flick, and I usually find those pretty boring.
Honourable mention to THE TREASURE OF THE SIERRA MADRE
Lifetime Achievement Award 2014:
Alejandro Jodorowsky for LA DANZA DE LA REALIDAD and his crazy ramblings in JODOROWSKY'S DUNE
This guy is just as fucking nuts as ever, and I'll give him props for returning to filmmaking to tell his crazy life story in a film that is as good as his old movies.
LA DANZA DE LA REALIDAD also wins
Best Supporting Actor
for Brontis Jodorowsky playing his own real life Stalin-loving grandfather in a series of very funny fight and sex scenes.
Anyway, that's it! Thank you, 2014! It's been a slice!