I had, quite some time ago started an "Ultimate Mix Tape" thread, but this thread is a little different. The aftermentioned thread was about your best mixes. This thread isn't...
This thread is about any mix you've recently made. Why you made it. How you packaged it. What's the signifigance. Why it matters to you... ect.
Basically, this thread is about sharing with fellow zoners your thoughts and feelings regarding your mix. I hope this doesn't turn into a
'your taste sucks'
thread. If that's the case, then my intentions have gone completely sideways.

Regardless, the reason this thread dawned on me, is I just put together a mix CD for my father after my parents recent visit. See, we were driving around and he had an instant affininty for "Things have Changed" by Bob Dylan (that I played in the voyage). So much so that he requested to get a copy of that song (a rare request by my father, indeed). So, I came home and spent about an hour and a half putting together a mix today (that I hope he likes all the way through) and a nifty cover: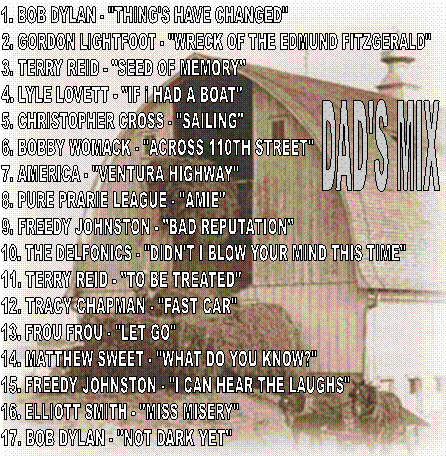 Now, I am sure most of you will do an "upturned nose" at the song selections, but I really hope my Dad likes it.

At any rate, I hope you
mix junkies
out there want to wander in and share!