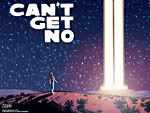 Can't Get No
by Rick Veitch is released today stateside, I wondered if any other zoners are going to be acquiring and reading it ( I should get my copy Monday, so I will post a review then ). This has got some major buzz around it and it looks and sounds superb.
Corporate exec Chad Roe had the "perfect" modern life. But the trophy wife, the prestigious job and the pills have always threatened to overwhelm him, and things go from bad to ugly when one night of debauchery hits the sobering light of September 11, 2001.

Comics iconoclast Rick Veitch (SWAMP THING, Brat Pack) writes and illustrates a graphic novel as singular in its execution as it is in the events it portrays. Half the height of a standard comic, told in landscape format with over 350 pages of story, Can't Get No features Veitch inventing a poetry unique to the medium to tell the story of a man and nation torn by tragedy.

Reeling from the financial collapse of his business, Chad Roe descends into a night of depravity, only to wake up a "marked" man – literally – his body covered in a permanent tattoo. But Chad will be only one of the many whose lives are forever changed after that Tuesday morning of September 11, 2001. Instead of picking up the pieces, he takes to the road, heading straight into the shell-shocked heart of America on a desperate search for salvation.
Praise and a review -
"...supremely, magnificently strange, and like nothing else I've read."
— Neil Gaiman

"...one of the most remarkable achievements in recent comics history."
— Publishers Weekly

"Can't Get No is a smooth, magnetic yet intricate book, whose storyline, combined with the Hopperesque starkness and elegance of the artwork, is what they always called in the old days ' a good read.'"
— Ed Sanders (Tales of Beatnik Glory)

"...a remarkable allegorical tale."
— Library Journal

"Most impressive."
— Booklist
So? Despite the title, satisfaction is very much what you get from Rick Veitch's new graphic novel. This is a fascinating, dream-like look into the life of a man who's successful at business and wakes up one day to find his life falling apart. And then, 9/11 happens. Veitch has never shied away from big questions, and as such has produced some of the most thought-provoking and opinionated comics of the past 20 years. CAN'T GET NO continues that trend, telling a story with poem-like script and no dialogue. The art is excellent, as well, having all the qualities that make comic art compelling from excellent storytelling to images that can only be brought to life on the page. A quick but deep read, even at more than 300 pages, this is a top-notch book that likely will inspire, offend and confuse in equal amounts. What it is guaranteed to do is make you think and feel. Grade: A
I would be very interested to see what you US zoners think about this book, I hope some of you will make a comment.